---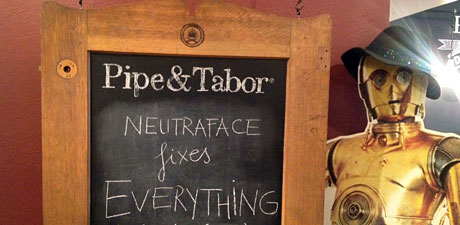 While every great brand doesn't necessarily start with the typeface NeutraFace, it does start with good planning, an insatiable curiosity, and lots and lots of research. A little inspiration doesn't hurt either. We place a huge emphasis on the core brand story in building a company's overall marketing strategy. And even though talk of brands, branding and brand story has become common place these days, it can all get rather 'market-eze' in both language and process explanation. Let the fine folks at Pipe & Tabor help you unpack all of this.
---
"The show has been busy and the response to our new logo and promo pieces have been overwhelmingly successful!!! Long time customers are ecstatic! Our owner has said repeatedly how happy he is with everything and what a great job you have done." –Stephanie Garrow, National Account Executive, PizzaBlends, Inc.
It's difficult to encapsulate the full satisfaction of seeing a brilliant brand fully realized in some tangible form. But when you see all of the hard work, planning, wrestling over colors and typefaces, finally come to fruition as they raise the illuminated sign, apply the vinyl to the window/doors, or even get the website's first call after launch, you know it has all been worth it. What was life like before that brand overhaul or development? You may never remember, and you certainly won't want to go back to where you were. A properly targeted brand identity system with a consistent full layout can be life changing for your business. Sure… maybe many of your clients/customers may know just how good you are, but do you look like it? And even if you do, are you sending the right message about the experience of working with you or visiting your business/organization? A misrepresentation of your business or organization through your brand is just as bad as having a poor or ugly brand. Whether you're looking to update or refresh your current logo design or brand identity, or need to start from scratch, we can help you. Building on your visual branding starting with your logo, we can also help with any print collateral and marketing (print advertising, brochures, flyers, cut sheets, annual reports), product packaging (DVD/Blu-Ray packaging, food product labels and packaging, or other product packaging) and website design and development (including front end and back end programming, WordPress theme development and maintenance, blogging and social media).
If you're ready to take your brand message and story to the next level, then contact us today!